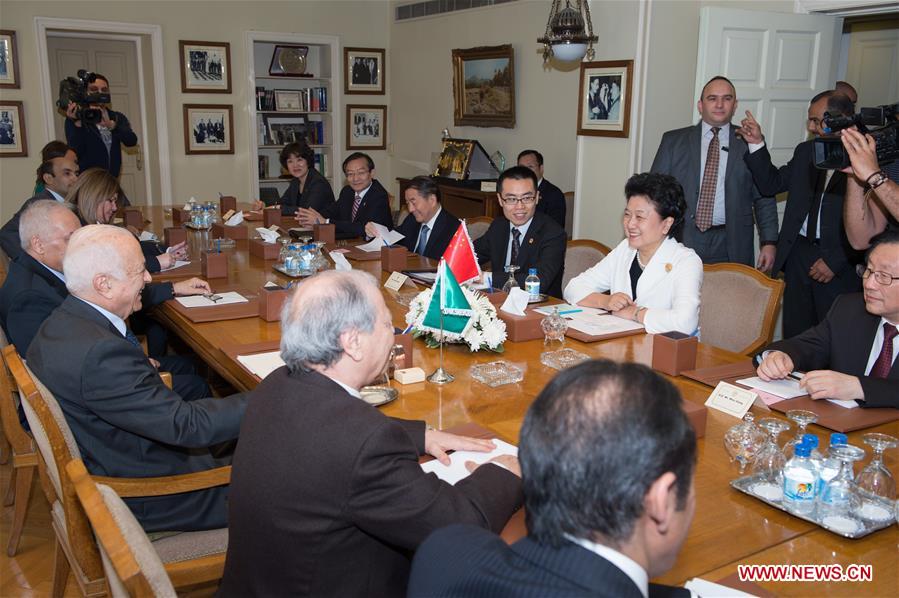 Chinese Vice Premier Liu Yandong (2nd R, back) meets with Arab League Secretary-General Nabil al-Araby (3rd R, front) in Cairo, capital of Egypt, March 27, 2016. (Xinhua/Meng Tao)
CAIRO, March 27-- Visiting Chinese Vice Premier Liu Yandong agreed on Sunday with Arab League Secretary-General Nabil al-Araby on efforts to further Chinese-Arab cooperation in the cultural and technological fields.
Liu said during their talks at the Arab League headquarters in Cairo that the Chinese-Arab cooperation in the areas of science, technology and culture has seen "noticeable progress."
Liu's visit came a couple of months after Chinese President Xi Jinpingpaid a remarkable visit to the pan-Arab body during which he outlined a new vision for the Chinese-Arab cooperation and said development was "a new path" to the solution of Middle East issues.
The vice premier referred to her visit as a translation of "the goals and vision that the Chinese president presented during his recent visit to the League," stressing Xi's visit had been aimed at "rejuvenating the China-Arab cooperation."
She hailed the constant political trust which has been built between the two sides over the past six decades in diplomatic ties, expressing China's willingness to work on enhancing innovative, technological and educational cooperation and to expand cultural exchange with the Arab side.
Liu also highlighted the significance of cooperative project proposed by Xi during his Arab League visit that included the translation of 100 Chinese and Arab books and making 100 mutual visits between Chinese and Arab experts.
The project also envisioned 1,000 training opportunities for Arab youth leaders, invitations for 1,500 Arab party leaders to visit China, 10,000 scholarships and 10,000 training courses, as well as exchanges of visit between 10,000 Chinese and Arab artists.
"This project is meant to maintain the core of the Chinese-Arab strategic cooperation," the Chinese vice premier said.
For his part, Araby voiced the hope of the Arab side to enhance cooperation with CHina for mutual benefits.
"China is the only big power that always supports the fair cause of the Arab world," Araby told Liu, noting that the Arab-Chinese friendship is based on "a solid ground."
The Arab League chief said that President Xi's recent remarks at the League showed the great interest of the Chinese leaders in the development of Chinese-Arab ties, which has been warmly welcomed by all the Arab people.
Araby also expressed the hope for further Arab-Chinese cooperation in the scientific, technological and cultural fields, stressing a keenness on maintaining China as a key partner and on holding the Arab-China cooperation forum on a regular basis.